I Recommend This
2
Recommended
Tipee needs your help! Tipee is trying to reach the flyzone but a flock of birds spotted in the vicinity are keeping Tipee from reaching his goal. As you progress Tipee will grow, and helping Tipee fly will not be so easy. Beware! This game is addicting.
• Tap your way through an assortment of fun and challenging levels.
• Beat your best time and try to reach for the gold medal.
• Share every step of the way with your Facebook friends.
• Show the world your tapping skills!
Hint: 2 fingers are better than one.
Are you ready to help Tipee reach his goal?
More levels coming soon!
Credits:
Ambler Kevin MacLeod (incompetech.com)
Licensed under Creative Commons: By Attribution 3.0 License
http://creativecommons.org/licenses/by/3.0/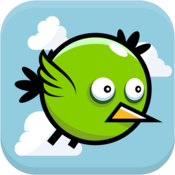 Supported Devices:
IPhone/Ipad
Links: